---
---
Scholarship Programme Launching Ceremony 2018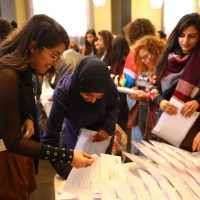 On the 23rd of November, our partners, the Arab Culture Association (ACA), distributed 250 scholarships. During this year's annual ceremony in Nazareth, student's learned about our Scholarship Programme and officially began their educational journey.
Meet some of our students in the video below from the 2018 Scholarship awards ceremony.
#UKCharityWeek #CharityTuesday The ACA held the latest scholarship award ceremony for the new cohort of Galilee Foundation students on 23rd November. Here are the thoughts from some of the students.

Posted by The Galilee Foundation on Tuesday, 4 December 2018
The Programme aims to support Palestinian students through financial, academic and cultural enrichment. Our programme also includes voluntary work which serves the Arab Palestinian community living in Israel and is geared towards re-enforcing Palestinian identity and history.
Students are also required to participate in workshops which help them throughout their studies like the Time Management workshop. And the Public Speaking and Analytical Reading, which help them improve their communication skills and critical thinking.
Pictures from the event can be found below.